SYNDICATION AS A WAY OF FORMATION OF THE MODERN CONTENT
Keywords:
content, content syndication, readership, information processes
Abstract
The Purpose of the Study is to theoretically substantiate the phenomenon of syndication in social communications as a way of forming modern content in communication platforms. The Research Methodology consisted of a number of methods. Comparative analysis was used to study existing scientific points of view and describe the practical side of the issue; detailing and description of the term "content syndication", proposed by the author as commonly used in applied social and communication technologies; sociological survey of respondents in the network. The Scientific Novelty. lies in the fact that content syndication is currently a phenomenon that is little researched and described, in view of the current rapid development of applied communication technologies, such a description is necessary. The author's vision of the concept of "content syndication" is provided. We see the practical component in detailing the possibilities of web content syndication as an effective way of working with the audience, which is the relevance of the research topic. The Conclusions. The article presents the author's vision of one of the ways of cooperation with today's demanding audience. Nowadays, there is an urgent need for the formation of high-quality and relevant content that is rapidly distributed among Internet users. Due to information oversaturation, journalists are forced to look for new and effective ways of cooperation, interest of the audience and retention of their attention, therefore the requirements for the content itself are also increasing. We consider syndication as an effective way of creating and introducing content. A pilot survey of respondents was proposed, which proved the effectiveness of using content introduced by syndication.
References
Electronic sources of political influence: forms of consciousness manipulation and means of limiting them (2016) URL: http://librar.org.ua/sections load.php?s=policy&id=113&start 5/ [in English]
Zadorozhna, N, Kuznetsova, T., Luparenko L. (2014). Designing a model of a typical site of a scientific institution. Information technologies and teaching aids. Vol. 39, N. 1, PP 279−286. [in English]
Kolomiets, V. (2014). The role of Internet technologies in the formation of consciousness. Problems of international relations. Vol 8. PP. 96−108. [in English]
Kurban, O. (2014). PR in marketing communications: academic. Manual. K.: Condor Publishing House, 246 p. [in English]
Matchuk, Y. (2017). Social media as a communication platform of the European Parliament URL: http://journals.iir.kiev.ua/index.php/pol_n/article/download/3338/3016 [in English]
Content syndication: one text on several sites (2019). URL: https://fractus.com.ua/uk/blog/sindiaciya-kontentu-odin-tekst-na-dekilkoh-majdanchikah/ [in English]
Zhou Haodze. (2019). "Ukraine has a huge growth potential of the information and communication technology market" URL: http://ukurier.gov.ua/uk/articles/chzhou-haoczeukrayina-maye-velicheznij-potential-/ [in Ukrainian]
Dutta, S., Kumar Das, A., Ghosh, S., Debabrata, S. (2022). Data Analytics for Social Microblogging Platforms URL : https://www.elsevier.com/books/data-analytics-for-social-microblogging-platforms/dutta/978-0-323-91785-8. [in English]
Rodney, J (2009). Technology and sites of display The Routledge Handbook of Multimodal Analysis. РР 114–126. [in English]
Martinec, R., Salway, A. (2005). A system for image-text relations in new (and old) media Visual Communication. № 4 (3). РР. 337–371 [in English]
Perego, E. (2009) The codification of non-verbal information in subtitled texts. In New Trends in Audiovisual Translation. Bristol: Multilingual Matters. РР. 58–69. [in English]
Cintas, D. (2009). New Trends in Audiovisual Translation. Bristol: Multilingual Matters 270p. [in English]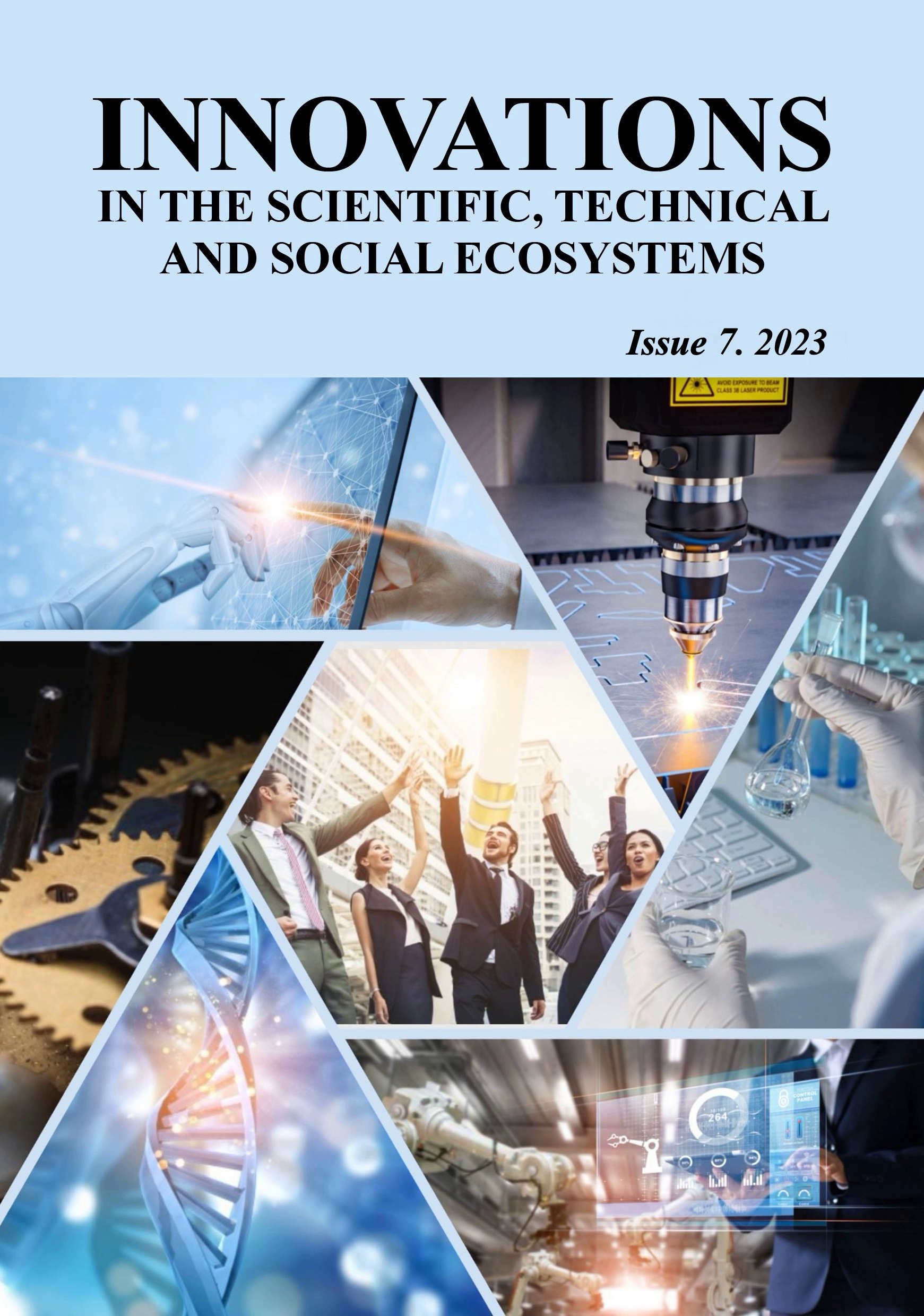 Downloads
How to Cite
ДОСЕНКО, А. (2023). SYNDICATION AS A WAY OF FORMATION OF THE MODERN CONTENT . INNOVATIONS IN THE SCIENTIFIC, TECHNICAL AND SOCIAL ECOSYSTEMS, 1(7), 5−15. https://doi.org/10.56378/KLZU20230930
License
Copyright (c) 2023 Анжеліка ДОСЕНКО
This work is licensed under a Creative Commons Attribution-NonCommercial-NoDerivatives 4.0 International License.